About The Money Badgers
The Money Badgers are a financially independent family that writes about financial independence, investing, saving, and taking control of your life to be happier and wealthier.
I'm a former software developer currently in my thirties.  You can call me Mr. Badger (no, not my real name).  My wife (Mrs. Badger) is an academic and my son (Little Badger)  is coming up on three years old.  We've been fortunate to learn some important life lessons early enough to achieve financial independence early in life.  We live well beneath our means and enjoy a frugal lifestyle – something that helped us to achieve financial independence in our thirties.  Despite our frugality, we don't live like paupers.  We have nice, high quality things.  We have a beautiful house on a lake.  We enjoy travel and we've taken our son to fun and exciting places in the United States and Europe.  Living well and living expensively don't have to go hand in hand.
I started this blog to share some of what we've learned along the way.  I love to learn and to share what I've learned with other people.  I've enjoyed some of the great resources people like Mr. Money Mustache and the Mad Fientist have created and wanted to share our story in the hopes that it'll help people reach financial independence and a life that isn't ruled by an unending quest to get enough money.  In our journey, I found that different perspectives on financial independence, saving, and investing helped me to gain a better understanding of what was important to me.
So where did the name The Money Badgers come from, anyway?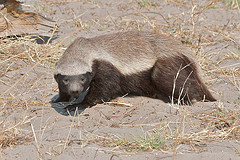 The Money Badgers are named for the honey badger, an animal with almost no natural predators, other than humans.  Native to Africa, they are one of the few species known to be capable of using tools and are notorious for their strength, ferocity, and toughness.  They have exceptionally thick, tough skin which offers protection from stinging bees and venomous snakes.  One of their favorite foods is bee larvae and they'll stick their face into an active beehive, ignoring the stinging bees, to get to them.  They've been filmed attacking an African Puff Adder, killing it despite being bitten, and then passing out briefly from the venom before recovering and finishing their meal.  There's a reason that the Guinness Book of World Records lists them as the "World's Most Fearless Creature".
Much like our namesake, we're ferocious in our determination to be financially independent and to live the life that we want to live.  We have thick skin and we approach challenges fearlessly.  We do not, however, have a taste for bee larvae.
Photo by richardrichard