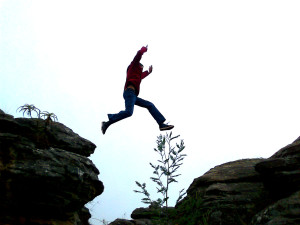 Taking the retirement leap can be scary.  I've been financially independent for the better part of a year but I'm still working at the same job I've had for the last few years.  As I've mentioned before, I've never intended to retire and then do nothing.  Like many early retirees, I plan on pursuing the things I enjoy doing while possibly making some money at the same time.  Some call it retirement, some call it semi-retirement.  I call it having the freedom to do what you choose without money being an important factor.  Why then am I still working at a job that I don't love?  I don't hate my job.  In fact, at times, it's an enjoyable and challenging occupation.  That said, it's not the thing I'd prefer to be doing with my time.  For me, I've stayed in my day job for a handful of reasons.  Reasons which, based on what many other future early retirees are talking about, are surprisingly common.
One More Year Syndrome
One more year (or one more month) syndrome afflicts many a potential early retiree.  Folks that are driven to achieve financial independence early in life have generally done so by making decisions during their accumulation phase which maximize the amount that they're able to add to their nest egg.  Retirement marks the end of the active accumulation phase and requires a change in mindset.
Even though I know I have enough money for Mrs. Badger and I to retire and that we don't need more money, it's hard for me to accept that when I stop working we're no longer going to be stashing away money at the prodigious rate that we have been recently.  I made it this far because the decisions I've made have been focused on making the smart financial decisions which optimize for high savings.  I've taken the higher paying jobs.  I've done the "right" things for my career.  I've seen the nest egg grow at an amazing rate and it's easy for me to tie the decisions I've made to that result.
Suddenly, I'm faced with the prospect that one of my key indicators of success will need to change.  I won't be able to use "how fast my nest egg grows" as a measure of my success.  Frankly, it probably shouldn't have been a direct indicator even up to this point.  For someone who's trying to take money out of the driver's seat and make my life about doing the things of real value, I've been focused quite a bit on a number to tell me whether I'm successful.  That's not uncommon or even all that surprising.  It's much easier to measure the size of your investments than it is to put a number on the amount of happiness in your life.
If I work one more year my nest egg will grow faster.  I'll get some nice benefits from my employer.  Perhaps most importantly, I won't need to figure out what's next or how I'll measure success outside the traditional working world.  Retirement, or semi-retirement, is a change which moves me from a place I know well into the unknown with all of the uncertainty that comes with it.  No matter how excited I am by the concept of not working for "the man" and for having the freedom to do what I want, it's still the unknown.
What will I Do in Retirement
Many people I've talked worry about being bored in retirement.  Without the daily routine that comes with their job, what will they do?  For some it seems a silly question – of course they'd want to retire and of course they wouldn't get bored.  And yet for many, the transition to retirement is one of the most stressful of their lives.  You may become rudderless, without direction, without a purpose.  Having a plan goes a long way to reducing those concerns.  The important thing here doesn't seem to be that you know exactly the course your life will take but rather that you know how you're going to start out.
For me, I'm going to focus on being a stay at home dad and I'm going to start-up a small, and very flexible, home-based business.  Two years from now I may find myself doing something else entirely and that's alright.  Knowing that I have a plan and that I have things that will occupy my mind and allow me to grow as a person gives me the comfort I need to take the next step.
How Will I Define Myself and Measure Success
My job offers me more than just a paycheck.  It gives me a sense of normalcy and it gives me an identity.  Think about the last time you met someone new in a social situation.  You introduced yourself and, if I had to bet, within a minute or two you were asked the question.  So, what do you do?
People often define themselves by what they do.  A successful career is an indicator of success as a person.  Do I think that's they way it should be?  No.  Is it often seen that way?  Yes.
Think about what's important to you.  Is it family, adventure, learning, teaching?  If you can figure out what's really important to you, you'll be in a better position to decide how you want to define yourself.  Do you want to be known as the #1 sales representative or do you want to be known as the awesome father?  Do you want to be known as best software developer out there or do you want to known as the adventurous soul that's been all over the world.  The priorities you choose are up to you.  There's no right or wrong answer as long as what you choose is really the thing that matters to you.  If it is, it'll become part of what defines you and part of what maintains your self-worth.
How Sure am I About My Finances
I've run my numbers through dozens of calculators.  I've built complex spreadsheets for budgets, portfolio predictions, spending models, and more.  I've asked for opinions from others in the early retirement community.  I've built in such a significant safety margin that failure is, to say the least, unlikely.  And yet, through it all, I wonder whether I've thought of all the contingencies.  I wonder if I'll run out of money.  Here's a handful of things that have been helpful for me as I've moved past this concern.
Take your time.  If, like me, you stumbled upon early retirement when you were already either there or very close, don't feel like you have to make life-changing decisions immediately.  Think about it.  Talk with people you trust.  Do your research.  Sleep on it.  You'll be happier and more secure for having taken the extra time to ensure you're making an informed decision that isn't based on irrational exuberance.  If you've made changes to your spending habits to get to a point that your nest egg will sustain you, take some time to make sure that you can actually sustain that spending level.
Run the numbers.  Calculators like cFireSim and FireCalc can do some truly impressive modelling of different scenarios.  Crunch the numbers.
Figure out your safety margin.  If you decide to retire at the exact moment that you have, barely, enough money and your ability to find another job if needed is low, you're in a risky spot. If you have enough flexibility to live on a bit less than you're planning for, at least for a couple of years or if you're confident you could find another job, even if it pays less, then you'll be better able to weather a financial storm.
Join the community.  Communities like the Mr. Money Mustache forums are great places for people to talk with similarly minded folks.  I highly recommend reading through, posting questions, and getting a feel for the questions and concerns others are asking.  Communities like this can help you increase your confidence and can also help you spot holes in your plan.
Golden Handcuffs
The final thing that's kept me at my current employer is that I'm fortunate enough to receive a variety of incentives which makes staying with them a fiscally advisable plan.  These incentives are often called golden handcuffs and exist so that employers can motivate their employees to stay with the company.  Whether it's a bonus, stock options, restricted stock awards, or 401(k) matching program, the point is that the employer will give you something of value if you stay with the company.
For example, a company might give a restricted stock award which vests over a three year period.  If the employer granted 300 shares, the employee would receive 100 shares a year for the next three years.  If they left the company, they wouldn't receive any of the unvested shares.  Because new awards are granted each year, the employee always has an opportunity cost associated with leaving the employer.  They'll lose out on all of the unvested shares that they'd receive if they stayed for another three years.
Golden handcuffs are a good problem to have.  If and when you leave, you'll be giving up some money.  My advice is to decide when enough money is enough and then pull the trigger and don't look back.  Odds are good that if your employer values you enough to grant you this type of incentive, that you're a good enough employee to find another job later if needed.  Don't let greed keep you locked into something if it's not what you want to do.
My Plan
I have, for the last few months, been fearing the possibility that I may one day look back and regret leaving the comfort and security of my job.  What I recently realized is that if I don't take this chance to strike out and try something new, I will most certainly look back with regret on the things I didn't do and the chances I didn't take.  Between those two potential regrets, I would very much prefer to have the regret of trying and failing rather than the regret of never having tried for fear of where I would end up.
I've decided to take the retirement leap and I've submitted my resignation.  I'll be retiring at the end of this month.  I'm happy to say that I'm leaving on good terms and that my boss has told me that if I'd like to come back, I should give him a call.  I don't see that as a likely outcome but it certainly is a nice safety net.  I'm looking forward to this new direction for my life and I'm confident that, for me, it's the right decision.