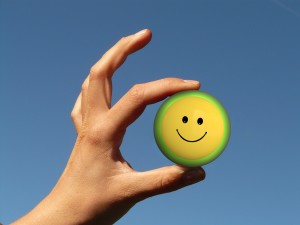 If you're like many people pursuing financial independence and early retirement, you hope and plan to be happy once you're financially independent and retired.  The real question is, are you happy now?  For many working their way towards financial independence, the time spent working and saving is a means to an end.  It's something to get through, not something to enjoy.  What if I told you that you could actually retire earlier by being happier now?
I'm a big fan of TED Talks.  If you haven't heard of TED, it's a global set of conferences with the slogan "Ideas Worth Spreading".  I could happily spend an afternoon watching different talks but every once in awhile, I find one that clicks so completely that I feel compelled to share it.  The Happy Secret to Better Work by Shawn Achor was one of those talks and I think it has clear implications for people looking to retire early, achieve financial independence, and increase their level of happiness.
Achor studies positive psychology.  His research has shown that if you're happy, you are actually more productive, more intelligent, and more likely to succeed.  He asked the question, "why are some people so far above the curve when it comes to intellectual ability, athletic ability, musical ability, creativity, energy levels, resiliency in the face of challenge, or sense of humor?"  His answer is  the Happiness Advantage.  If you can achieve positivity in the present, you'll have what he calls the Happiness Advantage.  Your brain works better at positive than it does at negative, neutral, or stressed.  Your intelligence, your energy, and your creativity will all experience a boost.  You'll be more successful because you're happy, rather than waiting for success to generate happiness.  You'll find it easier to achieve your goals and you'll be happier while you do it.
He points out that for most of us, we look at happiness as an outcome of success.  Unfortunately, every time we succeed, we move the goal posts.  You get a new job and very shortly you're looking for the next promotion.  You get a raise and before you know it, you're looking for another.  As Achor says, "when happiness is on the other side of success, you never get there … we've pushed happiness over the cognitive horizon."  That's disappointing not only because there's so much unnecessary unhappiness but also because it actually keeps us from achieving our full potential and it may slow down our attempts to become financially independent.
Would you rather grimace through the discomfort of work until you're financially independent or would you prefer to actually enjoy the process of getting there?
Life is a journey and if you're miserable in that journey, you're probably not living the best possible version of your life.  If you're hope is to retire early in the hopes of reducing the time you spend not being happy, I would tell you that now is the time to make a change.  Don't wait until you're retired to be happy; make the decision to be happy now.  If you don't, you may find that once you retire, happiness is as elusive as it was before you achieved your financial goals.  As Achor says, "It's not the reality that shapes us but the lens through which your brain views the world that shapes your reality.  If we can change your lens, not only can we change your happiness, we can change every single educational and business outcome at the same time."
Shawn Achor is a fantastic speaker and I'd highly recommend taking 12 minutes to watch his talk.  You might find that it changes your life and how you pursue your goals.
How to Retire Earlier by Being Happier
Of course we can't just leave it at that.  To actually retire earlier, or for that matter to keep working with the satisfaction of being financially independent, we need to figure out to become happier. Achor comes to the rescue with a list of things that you can start doing today to train your brain to be more positive.  These are things that have been shown to improve your happiness and they don't cost a thing other than a few minutes of your time.  Try doing each of these once a day for 21 days and see if it helps you rewire your brain.  What do you have to lose?
3 Gratitudes – write down three new things you're grateful for and teach your brain to look for the good things
Journaling – journal about one positive experience from the day, allowing you to relive it
Exercise – teach your brain that your behavior matters
Meditation – get over the cultural ADHD that so many of us experience
Random Acts of Kindness – write one positive email of thanks or praise to someone in your social support network