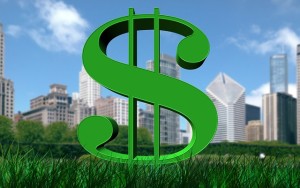 Saving money is a fantastic step towards financial independence but without a plan for investing the money you save, you could find yourself losing out in the long run.  I've met some smart, frugal folks who are diligently saving for a rainy day but they're stashing all of their money in savings accounts that return a fraction of a percent in interest or in CDs that yield a percent or two of return.  They understand the value of saving but they don't understand why investing is important to both growing and maintaining their money.
There are a some common reasons that keep people from investing their money where they can get a reasonably good return.
I don't know how to invest in the market and it sure seems complicated.
I don't know which investments to choose.
I just haven't got around to it yet.
I'm afraid that I'll lose my hard-earned money.
My buddy Joe invested in the market and lost his shirt.  I'm never going that way.
One and two really come down to lack of knowledge and can be easily fixed.  This site and many others can give you the confidence you need to invest your money.  Three is just laziness and four and five are all about fear.  Fear of loss keeps many people from making good investment decisions.  They don't invest their money where they can get a reasonable return or, if they do and they see a short-term loss, they sell rather than waiting for the prices to come back up again.
If you're saving money but you haven't really started investing yet, you need to understand how likely you are to lose out in the long run. You might think you're playing it safe but, in reality, you're virtually guaranteeing loss by losing the war against inflation.
The War Against Inflation
Let's say you decide to take a bunch of your money out of the market and put it someplace nice and safe like a good FDIC insured savings account at your local bank or credit union.  You understand that you might be giving up some earnings but at least you're guaranteed not to lose anything, right?
Wrong.  Unfortunately there's an excellent chance that you'll actually be losing money to inflation.  Inflation is simply a sustained increase in the price of goods and services.  Basically, stuff costs more now than it cost before.  To give you an idea of how big an impact inflation can have on prices, look at the average price of a few items from 1960.
New houses cost an average of $12,700
A gallon of gasoline was $0.25
The average new car cost $2,600
Generally, as the cost of goods or services go up, so do wages.  That's good for people earning income by working because their buying power will hold approximately steady.  It doesn't, however, help with any money you've stashed away.  If you had stashed $20,000 in a mattress in 1960 you would have had enough money back then to buy both a new car and a new house.  Fast-forward 50-plus years and you wouldn't even have enough money to buy the average new car at over $32,000.  You wouldn't have lost any money but you would have lost spending power.
People are often so scared of losing money when they invest that they don't look at the very real threat of their money's spending power being gradually eaten away by inflation.  Instead of simply looking at the reported returns for an investment, we can look at the real return which is the return after being adjusted for inflation.  If an investment returned 8% in a year but the inflation that year was 2%, the real return would be 6%.  You would have 6% more spending power than you had the year before.
Figure 1 below shows you how much money you would have today if you had invested $10,000 in January, 2000.  The blue line is zero growth – as if you stuffed the money in a mattress.  As you'd expect, you start and end with exactly $10,000.  You get a little more if you had put it in an interest-bearing savings or checking account yielding 0.5% interest and even more if you put it in five year CDs at 2.25%.  The biggest return comes from putting it in the stock market at 8%, yielding almost $30,000 fourteen years later.  Note that all of the returns are approximations for illustrative purposes.  In real life the annual returns for everything but the mattress would have fluctuated slightly over time.  Your mattress is, on the other hand, pretty much guaranteed to return nothing.*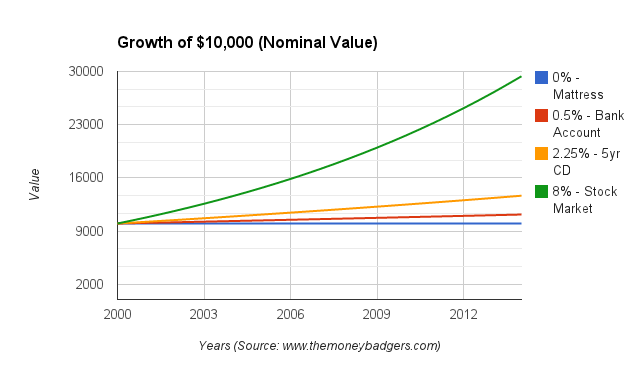 No real surprises so far but let's take a look at what happens when we adjust for inflation.  Figure 2 below shows us the exact same returns as figure 1 but I adjust the value of our investment for inflation.  I've used the real inflation data from the year 2000 to 2013** so that we can see how our spending power changes.  Inflation over that period averages 2.4%.  Suddenly our mattress isn't looking so safe.  Our initial $10,000 is now worth the equivalent of $7,076 in "year 2000 dollars".  In other words, our $10,000 today will buy us the same amount of stuff as $7,076 would have fourteen years ago.  We've lost nearly $3,000 of spending power to inflation.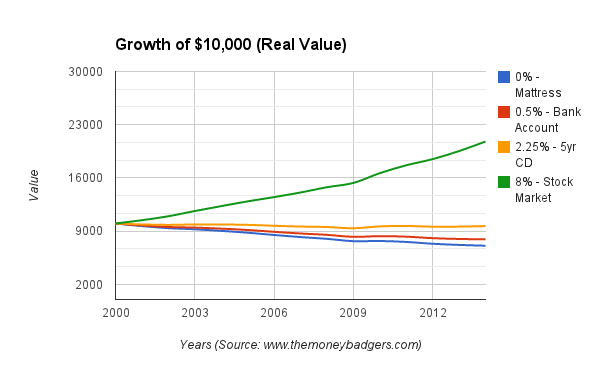 Our bank account and our CD did a little better but still lost the war against inflation.  Our stock market investment, on the other hand, won the war.  It lost ground just like the others but we still end up with over $20,000 in "year 2000 dollars".  This highlights the importance of investing your money where you can get a reasonable return.
Investing your money is important, not just so that you can build as large a nest egg as possible but also so that you don't lose money to the effects of inflation.  If fear of losing money, laziness, or lack of information is keeping you from investing then take a minute to think about the huge risks you're taking by leaving your money someplace where it is virtually guaranteed to lose value in the long run.  Making the decision now to invest wisely will help you to achieve financial independence so that you can work, retire, or do something in-between based on what you want, not based on what you need to do to make money.
* Your mattress is pretty much guaranteed to gain nothing but the risk of loss is definitely still there.  A house fire will take your $10,000 "investment" to zero faster than any stock market loss.  Please don't keep your money in mattresses.
**Source: InflationData.com