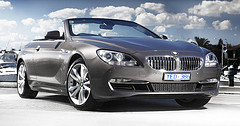 Our natural tendency to compare ourselves to those around us sabotages both our financial well-being and our happiness.  As Theodore Roosevelt once said, comparison is the thief of joy.  If you can curb your desire to keep up with the Joneses, you'll find that you'll be happier, you'll begin to develop better financial habits, and you'll reach financial independence sooner.
Your level of spending increases the amount you need to save for retirement and reduces the amount that you have available to save.  For many people, spending increases every time income increases.  The level of spending that made them happy before simply won't do.  They compare themselves to those around them and want what "everyone else" in their social circles have. Financial independence becomes an elusive long-term goal that keeps getting pushed further awayas they focus on acquiring all the stuff that "successful" people have.
What if, instead, they made the decision not to base their spending on what everyone else has and instead focused on just buying the things that are really important to them.  Instead of increasing their spending every time their income increased, they could increase their savings rate and move their financial independence date closer.  Wouldn't that be an astounding thing?
When I was in my early twenties I drove an old but reliable Honda, I lived in a small but safe apartment, and I had inexpensive but comfortable furnishings, many of which were purchased second-hand.  I was living on an after-tax income of less than $25,000 but I was happy and was putting away money towards retirement.  I had good friends and family in my life and, in hindsight, I had everything I needed.
Through my twenties I began to accumulate stuff.  My income increased over the years and I started to spend more time with people that had really nice things.  A coworker had a fantastic stereo system – I spent thousands building a surround-sound system.  My brother bought a fancy luxury car – I spent over $20,000 on a used luxury car that broke down twice as often and cost three times as much to repair as my old reliable Honda.  I stopped buying my clothes at Kohl's and started shopping at the fancy stores in the mall – where a polo shirt might cost $60.
My consumption, and my lifestyle, had changed dramatically even though I didn't feel any happier than I had when I was when I was younger.  Money was flowing out of my bank account like water and I didn't even know where it was going.  I was stashing away a small percentage of my income for retirement so I figured I was fine.  I was saving at least as much as those around me and I figured I'd work until I was in my sixties, just like the everyone else.  In hindsight, I'd love to go back and tell my young self a few things.  I was passing up amazing opportunities to save money and reach financial independence sooner by simply not buying things that, in truth, didn't make my life any better.
When you compare yourself to those around you, you have a tendency to think that you need the things they have.  You may even think you deserve the things they have.  For a reality check, go visit some places where people have less than you do.  Go visit a third-world country where people are struggling to provide food, clothing, and shelter and then tell me that you can't live without a 65 inch LCD television and a high-end surround sound system.  You'll quickly find that many of the things you think of as necessities are, in fact, luxuries that a huge portion of the planet's population simply don't have.  You might start to question why you've been scurrying to keep up with the Joneses.
Spending to Build Your Desired Life
When you start to build a mental image of your ideal life, it's very common to look at other people that seem happy and to desire the things that they have.  The thought process goes something like this.  Jane and John certainly seems to be happy!  John certainly seems to be living the life when he's out in his Audi TT and Jane loves her BMW.  They live in a huge house in an exclusive neighborhood.  If I could afford to live in that neighborhood and drive cars like that, I'd be happy too.  In fact, I'm downright depressed that I have to drive my five-year-old Honda and live in my modest home in the suburbs.
There are a couple problems with that line of thought.  First, if you were closer to them, you might find out that Jane and John are not as happy as they might appear from the outside.  More importantly, even if they are incredibly happy, there's an awfully good chance that it's not their cars or their house that make them happy.  You've confused correlation with causation – they're happy and they have these things.  They're not happy because they have those things.  If you go out and get yourself into debt to get those same things you'll probably find yourself without the happiness that you were seeking and with a load of new concerns about crushing debt and lack of financial stability.
People spend money is to build the life they want.  That's a perfectly healthy reason to spend money provided you're reasonable about the life you want and the things that'll help get you there.  Spending money on tasty and healthy food, a safe place to live, and things which provide long term happiness makes great sense.  Before you spend the money take a few days to ask yourself whether it will really make you happier or whether you're spending out of jealousy of a perceived better life.
Conspicuous Consumption: Spending to Establish Social Class
Another problematic motivation for spending is what economists call conspicuous consumption; spending to display economic power.  When I was younger I drove a used Audi A6.  If someone asked my why I loved the car I would have told them that the ride was amazingly comfortable and that the all-wheel drive was great.  What I wouldn't admit, even to myself, was that I liked driving down the road in a luxury car.  I liked the status that I presumed it bestowed upon me.  Now, older and wiser, I don't think people actually thought that I was hot stuff for driving a luxury car.  In fact, someone who knows what I know now would probably have been thinking, "wow, there goes a guy who spent too much on a car".
Whether you realize it or not, peoples' opinion of you affects your behavior.  Normal people want to be liked and respected and most are at least a bit competitive.  When you begin to make purchases based on what you think will make you more respected or more well-liked, you're headed down a dark, dismal, and debt-ridden path.  Don't let money and the things that it can buy be your scoreboard for life.
Healthier Comparisons: Measure Success in Stuff that Matters
You don't need to stop comparing yourself to others.  Looking at the people around you and using your observations to inform decisions about your own life is perfectly normal but you'll be far better off if you look beyond the superficial at the things that really matter.
When I started to think more about how I wanted to spend my time after financial independence, I started by identifying what was really important to me.  For me, it came down to family, learning, sharing knowledge, and new experiences.  When I look at people around me, I look for people that have the ability to focus on the things that are important to them.  Driving a fancy car doesn't impress me but having the freedom to spend your time on things important to you certainly does.  Living in a fancy McMansion doesn't make me jealous; it makes me wonder if the homeowners have sacrificed the things that are really important to them so that they can afford their fancy digs.  Today, when I hear people talking about all the stuff they have, I keep listening. Sometimes I hear that they are truly happy and that they're living the life they want to live.  All too often, I hear that they're unhappy and that they're continuing to follow the normal consumer process of filling their life with things to help fill the void.
Don't be one of the unhappy masses trying to fill your life with stuff in the hopes that it'll make you happy.  Look for true happiness and focus your efforts on building the life that provide long-term satisfaction.  Before you know it you may find that your friends and neighbors are looking to you and asking how you've become so happy, so successful, and so financially independent.
Photo by The National Roads and Motorists Association