One of the biggest differences between the millionaire next door and the average American struggling to make ends meet is that the millionaire knows exactly where their money is going.  To achieve financial independence you need to either manage your money wisely or make so much money that your lack of good management is lost to the tidal wave of money that's flowing into your accounts.  Good money management starts with knowing what you have coming in and what you have going out.
When you start looking at where your money is going you may very well be in for a surprise.  Small expenses add up more quickly than you might imagine and quickly become large monthly expenses that keep you from being financially independent.
For years I had a very loose idea of where all my money was going.  I didn't know exactly what I was spending every month but I was confident that it was fairly reasonably.  I didn't want to take the time to carefully import all of my transactions into something like Quicken and besides, I made enough money that I could afford to save a bit while still paying the bills.  Then I found Mint, a tool which fairly fundamentally changed the way I thought about my savings.  Within one hour, I could see the last few months of spending broken down by category.  I could see exactly what I was spending and I had to do almost no work to make it happen.  What I saw shocked me.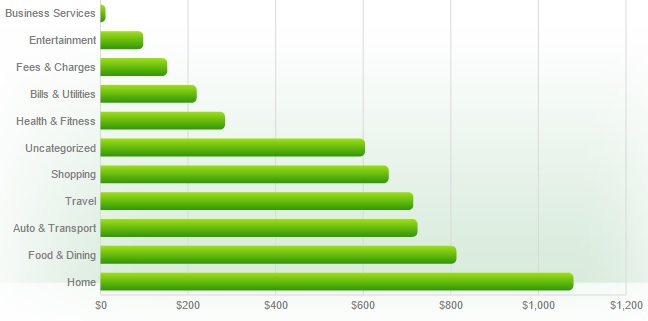 My monthly expenses in 2009, when I was a single guy, were $5,351.  One of the big surprises was how much money I spent buying stuff, over $650 on sporting goods, gadgets, and things for the house.  That wasn't a few big ticket items, it was fifteen different transactions averaging just $44 each.  You can bet that when I made each of those relatively small purchases, I wasn't thinking about them adding up to quite that much.  This wasn't stuff that was really important to me or making my life better and it was costing me $78,000 every ten years and would mean I'd need $195,000 more in my nest egg to fund my shopping habit.
Suddenly the adage, "what's measured is managed" really hit home.  My spending habits changed almost immediately.  I didn't deprive myself of the things that I really wanted or needed but I stopped buying quite of bit of stuff which was, in hindsight, pointless junk and clutter that did nothing more than add to an already cluttered life.  I setup a budget, another nice feature in Mint, and started paying attention to where my money was going.  My savings started to increase dramatically.
The road to financial independence doesn't have to be complicated but it does require that you pay attention and make some logical, rational decisions.  One of the most important decisions you can make is to decide that you're going to pay attention to where your money is going.  Whether you use Mint, a spreadsheet, or envelopes of cash, the important thing is that you know where it's going so that you can make informed decisions about whether the money you're spending is worth it.
If you can't describe exactly where your money is going, give the "Know Where My Money is Going" challenge below a try.  You might just find that a few simple changes make a huge difference in your life.
The "Know Where My Money is Going" Challenge
Outlined below for your viewing pleasure are the basic steps you need to follow to understand where your money is going.  If you have questions or ideas, leave them in the comments at the end.
Go create an account at https://www.mint.com – it's free and take about two minutes.
Link all of your other accounts.  You'll be able to search for your bank and then give Mint your username and password for your account.**
Once everything is linked, take a look around and you'll see where your money is going.  One fun place to start is Trends where you can see your spend broken down by category.  For example:
Remember that every dollar you're spending is an investment.  It may be an investment in the stock market or an investment in your happiness but every dollar spent is one that you are investing.  Make sure your money is going to the things that matter for you.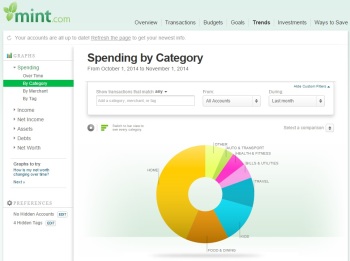 Making Mint Work for You
Mint is a wonderful and simple to use tool but, after many years of using it, there are a couple things that I've found helpful in making it work for me.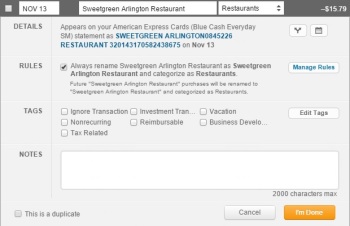 When you look at your transactions you may find a few that are uncategorized.  I take a few minutes every month to categorize these transactions so that I have an accurate picture of where the money is going.  If you have a number of uncategorized transactions, Mint will give you a reminder to categorize them.  Otherwise, go into Transactions and search for uncategorized.  You can select the category and, if you want, change the name, add comments, etc.  In the example on the right, I've changed the  category to Restaurants and I've checked the "Rules" box so that future purchases from this vendor will be categorized the same way.
Probably the biggest change was that I started using credit cards for everything.  In the chart of my spending from 2009 you'll see over $600 in uncategorized cash spending.  When I use a credit card I can track the individual transactions and Mint will automatically categorize them for me.  As a nice bonus, I get some nice rewards from my card.  You're only allowed to use this approach if you're responsible enough to use credit cards wisely.  If you think of available credit on your credit card as money that you have available to spend, you're not ready.  If you're going to buy more stuff because you don't feel the pain of the cash leaving your wallet then please don't move any additional spending to credit cards.  My recommendation for credit cards is to set them up to automatically pay in full each month.
If you're not up to using credit cards for everything, you can split transactions in Mint manually.  Let's say you take out $60 in cash.  You walk down to your local farmer's market and you buy $20 in tasty produce using some of your cash.  What you'd like to do is make sure that Mint knows where that money went, otherwise it's just going to show up as uncategorized spending.  When you look at the transaction above you'll see a little icon with arrows splitting in two directions.  Click that and you'll be able to split your transaction in multiple pieces and categorize each piece appropriately.
The Money Badgers have found Mint to be an amazingly useful tool.  If you're a data geek like me, having ready access to charts, graphs, trends, and all sorts of other data is financial nirvana.  Now that I'm measuring the data I find that I am, as a side effect, managing it much more effectively.  In one case it even allowed us to recover over a hundred dollars when a vendor charged us multiple times for the same item.  We might have missed it if Mint hadn't pointed out that our spending for a particular category was awfully high.
* Please note that we are not affiliated with Mint and do not receive any compensation for recommending it.  We just think it's a pretty darn awesome tool and it has revolutionized how we manage our day to day finances.
** There's a whole page on the Mint site which talks about security but to summarize, I'm comfortable using it for all of my accounts.  They have bank-level security and you can't actually move any money around in the tool.