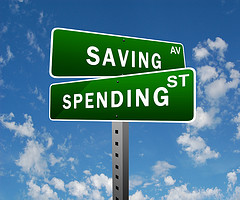 To get to financial independence quickly, you need to understand the direct relationship between what you spend and how much you need to save. We know that an easy way to figure out how much money you need for financial independence is to take your annual expenses and multiply by 25.  Since we're multiplying by a fairly large number, small changes in how much you spend each year will create big changes in how much money you need.
If you want to get to financial independence faster, you really have two basic options.  You can bring the finish line closer by reducing how much you need or you can build your nest egg faster.  People have an interesting tendency to focus entirely on the second option.  They look for ways to earn more, to get better investment returns, and to pay fewer taxes.  Those things are important but they miss the more powerful option of changing how much you need.
Changing what you need by spending less is more powerful for one simple reason.  If you spend less money you are not only reducing how much you need to save, you're actually able to save the money you didn't spend.  If you cut $10,000 out of your annual expenses you'll not only reduce the money you need in your nest egg by $250,000, you'll also add $100,000 to your nest egg every ten years – even if all you do is stuff it in a mattress*.
Let's look at an example from my life.  For years, I went out to lunch every workday.  I would spend an average of $8 a day for lunch and I thought of it as money well spent because I enjoyed getting out of the office for a midday break.  I told myself that I made good money so I could certainly afford to go out to lunch.  It seemed like a completely rational choice.  Sure, I could save a little more money if I stopped going out at lunch but would it really be enough to move the needle?
Let's see:
$8 a day x 5 days a week x 52 weeks a year = $2,080 spent every year eating convenience foods
$2,080 a year x 25 = $52,000 needed in my nest egg to fund my convenience food habit
$2,080 x 10 = $20,800 not invested every decade because I wasted the money on convenience food
I realized that I was thinking about the question the wrong way.  This was one of  a whole collection of things in my life that were costing too much money.  I had a wasteful mindset that kept me from noticing opportunities to save money and actually improve my quality of life in the process.  I started bringing my lunch to work.  Within a month I had not only reduced the amount I needed to save for retirement by $52,000, I also had more energy and had lost a couple pounds of fat.  By avoiding the salty, fatty convenience foods I had more money to invest, I didn't need to save as much money, and I'll likely live a longer, healthier life with fewer medical expenses by eating better.
At what price did these changes come?  I had to remember to pack my lunch, usually leftovers from the night before.  Suddenly we had less food going bad in the refrigerator.  I still went out at lunch but I was more likely to go sit in a nice sunny park rather than a burger joint.  I felt a sense of pride that I was doing something that was not only good for my wallet but also good for my body.
This doesn't mean that you can't choose to have your fast food, your cappuccino, your BMW, or your fancy house.  What it does mean is that you need to think about the trade-offs between spending and saving.  Before you spend the money, think about the true cost of the money you're spending.  It is not only the money you spend but also the additional time you'll need to work to build up a nest egg that will make you financially independent.
For me, I've found that I enjoy adding a bit more frugality to my life.  I don't deprive myself of the things that truly make me happy but as I've thought about it more, I've realized that I used to buy a lot of stuff that didn't actually make me happy.  Sometime I had a brief surge of happiness but more often than not, it didn't last for more than a few hours, days at most.  The things that truly make me happy are experiences, time with my family, and the ability to learn new things.  A luxury car or a $100 bottle of wine might be nice in an abstract sense but they don't really move the needle on my personal happiness.
The things that matter to you will be different.  If expensive wines are really important to you and you can't imagine your life being complete without them, then by all means, spend the money.  Just be sure that you understand that every time you spend money, you're making an investment.  Whether you're investing it in the stock market or in your happiness, you're making an investment.  Make sure your investments, even those in your happiness, have a lasting value.
The real reason I enjoy a bit more frugality is that I feel better about the decisions I'm making.  I was, without really thinking about it, focusing on the things that I could accumulate.  From cars to gadgets I was doing a fine job of accumulating stuff.  I didn't stop buying things but I did start to make better decisions about how much and what kind of stuff is really important to me.
Most importantly for me, I feel I'm a better father, a better spouse, and a better person now that I have my priorities a bit more in line.  My son learns by watching me and I want him to grow up understanding the things aren't what's really important in life.  I've decided that, rather than working in a job that could make him a wonderfully** spoiled rich kid with an absentee father, I'll show him how much I love him by spending more time with him and by giving him things with real value.  I will show him that he's far more important to me than a bunch of material stuff.
* To be clear, I don't advocate stuffing your money in a mattress.  It's pretty much guaranteed to lose value due to inflation, it's not particularly safe from fire, and it's just not all that comfortable as a bedding material.  Though I've never actually tried it, I'm fairly certain that literally sleeping on piles of cash isn't as comfortable as a nice pillow-top mattress.  The point I'm trying to make hear is that, even if you're a terrible investor that doesn't manage to make any interest at all, you're still better saving the money.
** I don't actually thing that giving kids everything their hearts desire is all that wonderful.  I could make sure that my son has the fanciest toys, a pony, and a luxury car when he's old enough to drive if I chose to to go down a path which led to crazy-high pay and crazy-long hours.  I've met more than a few kids whose parents did exactly that and I wasn't exactly impressed with the outcome.
Photo by 401(K) 2013