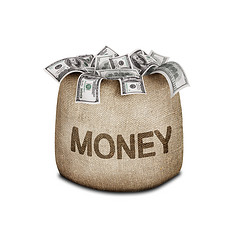 In your journey to financial independence, you'll work to build up a nest egg large enough to live on for the rest of your life.  The question then is, how big does your nest egg need to be?  The answer is surprisingly simple.  Figure out how much money you need to fund your expenses and multiply that number by 25.  If you need $40,000 to fund your desired lifestyle, you need to build a $1,000,000 nest egg.
At about this point, many financial planners will chime in to say that this is overly simplistic.  They'll argue that there are far too many variables to answer such a complicated question with such a simple answer.  They would be entirely correct but for one simple assumption.  I'm going to assume that you're a moderately intelligent person that understands the need to be flexible and to plan for unexpected events.  Let's dig in a little bit more to understand why 25 is your magic number.
There's a rule of thumb called the 4% Rule which basically says that you can withdraw 4% of your investment portfolio every year and you will preserve your nest egg, effectively forever.  It's what we like to call a Safe Withdrawal Rate or SWR.  The reasoning here is that, on average, the stock market returns more than 4% of inflation-adjusted returns year after year.  By living on 4% of your portfolio, you're basically living off the returns of your nest egg and preserving its value.  When we look at historic returns, 4% is a good and relatively safe starting point for our planning.
We get to our 25 multiplier by taking the reciprocal of 4% (that's 1/.04 but if you don't like math don't stress about reciprocals).  If you take your current nest egg and multiply it by 4% you'll have the amount of money you can withdraw every year.  Multiply that number by 25 and you'll be back to the value of your nest egg.  For example:
$1,000,000 x 0.04 = $40,000
$40,000 x 25 = $1,000,000
You don't need to use 25 as your number.  Many people would advise being more conservative and taking something closer to 3.5%.  If you wanted to do that, you would take 1/.035 and you'd know that you need 28.6 times your desired spending in your nest egg to retire and live on 3.5%.  I still believe 4% is a good working number.  Keep reading for some common criticisms of the 4% rule and why I think it's still a good starting point for your planning.
At a high level, that's all you need to do.  Figure out how much money you need to spend every year, save 25 times that number, and you'll be in good shape to declare financial independence.  You can now retire, keep working, or do whatever else you'd like so long as you spend that much or less every year.  The actual number you withdraw every year will go up with inflation so that your spending power is preserved as things become more expensive.
One of the great tools to figure out whether your nest egg is big enough is FIRECalc.  It's a free online calculator that, in its simplest form, lets you plug in the size of your nest egg, how much money you want to spend each year, and how many years you want it to last.  It uses real market data from 1871 onward and asks the questions, "what would have happened if I retired in 1871?"  Then it does the same thing for 1872, 1873, and so on.  It you said you wanted to have your money last forty years, it will look at every possible forty year period from 1871 to now.  If the calculator tells you that there was a 100% success rate, you know that your nest egg would have lasted even if you had retired at the worst point of the Great Depression, the tech crash, or the Great Recession.
Criticisms of the 4% Rule
The 4% Rule draws its fair share of critics who, to be blunt, are entirely correct if you assume that the person using the rule sees the world as black and white and doesn't course correct throughout their life.  If you blindly withdraw the inflation-adjusted equivalent of 4% year after year without any regard for what's happening in the world around you, you may be in for a rude awakening when you run out of money.  Let's look at a simple example.
Joe saves up $1,000,000 and declares himself financially independent.  He decides to quit his job and never do anything that will earn him money again.  Joe takes out $40,000 in his first year of retirement.  Every year after that, he adjusts that up by the amount of inflation and takes out the equivalent of $40,000.  No matter what the market does and no matter what happens to his investment portfolio, Joe take out the equivalent of $40,000.  If the market crashes a year or two into his retirement he takes out $40,000.  If, thirty years into retirement, he's actually so far ahead that he has the inflation-adjusted equivalent of $20,000,000, he still takes out $40,000.
The problem here is that Joe isn't being smart about how he uses the rule.  He's acting like a computer that was told it absolutely must spend $40,000 every single year without fail.  We're smarter than that.  We are using the power of our brains to make rational decisions.  We have the power to course correct when situations change.  We recognize that the 4% Rule is an excellent starting point which draws a clear path to financial independence provided we remain flexible and we build in a reasonable safety margin.
Most of the criticisms of the 4% Rule are based on the assumption that people using it won't adapt to changing situations.  They'll be rigid in their use of the rule and they're unable to adjust either their spending or their ability to earn if things change.  You may want to read more about the most common criticisms of the 4% rule so that you understand what could go wrong and how to avoid the most common pitfalls.
Key Takeaways
There are some key takeaways as we consider the rule.  First, we need to acknowledge that the 4% Rule is a rule of thumb.  Sticking to it rigidly despite changing conditions is simply foolish.  If you're on track to achieving financial independence there's a good chance that you've already made a series of good decisions.  Don't turn off your brain when you declare financial independence.  Continue to make good decisions and adjust to changing circumstances.
Second, there's risk in assuming that you'll be able to withdraw 4% year in, year out.  Building in a reasonable safety margin that gives you some flexibility will help you to adapt to changing circumstances.  If you have no ability to reduce expenses, make additional money, or otherwise adapt to unexpected circumstances, you're in a risky situation.  You could consider saving more money or giving yourself some flexibility in your expenses.  You could consider going back to work in the event things don't go your way.  Do yourself a favor and leave yourself a little wiggle room; you'll sleep better at night.
Finally, there are few absolutes in life.  You can do everything right and things might still go terribly wrong.  The same is true if you spend every penny you make and work until the day you die.  Certainty is hard to come by but, for me, the one thing I am certain of is that I can adapt when needed.  I have a comfortable safety margin and I'm flexible both in what I spend and in what I earn.  Things may not go perfectly to plan but, to paraphrase Eisenhower, the act of planning is priceless.
Photo by 401(K) 2013