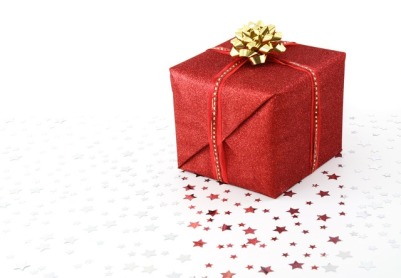 Mrs. Badger* says, "Give the gift that doesn't last a lifetime."  The holiday season approaches. Black Friday is imminent. In the spirit of the holiday season, I've decided to do all gift receivers a favor with a little advice for gift givers: give the gift that doesn't last forever!  Chances are your favorite gift receiver doesn't need it and very likely may not want it. What better way to show how much you love someone than to give him/her something that they won't clutter up their home for years to come?
Gifts for extended family, coworkers, neighbors, and spouses, siblings, and parents who have everything
These are the trickiest gifts, right?
Soap: Soap? You ask incredulously. Yes…soap. But not just any soap. The Best. Soap. Ever. I  don't know what makes this soap so amazing, but everyone I know loves it. The granddaughter  next door comes to our house just so she can use our bathroom and use the soap. My ex-cop  father-in-law just asked me where I got it. Everyone loves it. I got it from a very thoughtful gift  giver years ago. Check out the nice little company that makes it at www.chequamegonsoap.com so you can be a nice thoughtful gift giver too (and yes, Mr. Badger, I did just order your dad a gift set for Christmas).
Bird seed ornaments and wreaths: I stumbled across these years ago. I bought one for my sister, cousin, neighbor, and everyone loved them. Plus, they meet Mrs. Badger's gift giving criteria  perfectly. Even if whomever you bought them for thinks they're hideous, they will be gone in no  time with some very happy birds to boot. I've found them sporadically in various local nature  stores. You can find wreaths

and ornaments
 on Amazon (affiliate links but it doesn't cost you any more to click them).
This year, we're attempting to make  our own (lots of recipes online). I've tried to make them in the past. It's messy, and they never  turn out as nice as the store bought ones, but you get extra credit for the effort right? Plus, this  should occupy Little Badger for at least an hour and make him feel proud when Grandma opens  his present for her.
Spring bulbs: I love these as gifts because they will bloom inside, and you can then plant them  outside. We've purchased from White Flower Farm in the past, but many companies and  stores have similar items.
Socks: Not normal Hanes socks, but the nice socks no one wants to buy for themselves. I love to  wear Smartwool socks. I'd wear them every day if I had enough, but I don't (hint, hint, Mr.  Badger) and am too cheap to go buy a pair of $12-$20 socks for myself. I personally like the  stripes
 because they are both fun and lighter weight than the hiking versions.  Mr. Badger prefers the boring blacks and browns
. These are also likely available at your local outdoor store or shoe store.  Unfortunately, they do not last forever, and therefore meet Mrs. Badger's gift buying criteria.
Food: I love receiving food as gifts, but not junk food. We all get too much junk food around the  holidays. Think nuts. Think dried fruit. Think fresh fruit. Think fresh steel cut oats from the  farmers market, soup mixes, coffees, hot cocoa or tea. Consumable, yep. Appreciated,  absolutely (and if not, the gift receiver can donate to their local food pantry). As I sit here in my  insomnia-induced half-stupor sipping some great Mayan Cocoa some very nice person gave me  last Christmas (www.goldenfig.com), I'm thinking of promoting this to number one on my list.  Great pre-packaged food gifts can be found at farmers markets and some grocery stores, or  assemble your own. One cautionary tale…beware of going too far out there. I once bought Mr. Badger a Molecular Gastronomy Cocktail kit
. I thought it was the perfect gift: it met  the Mrs. Badger gift giving criteria (entirely consumable); Mr. Badger likes culinary adventures and I like cocktails. Yet, it is still sitting unopened on a shelf. Now I have to wait a decade for the  ingredients to expire before throwing it away.
Gifts for kids
People love to buy toys for kids. Baby Badger* has enough toys. Many lucky kids are in the same  boat, many other kids aren't. You can satisfy your toy-buying desires by donating new toys to Toys for Tots or The Salvation Army's Angel Tree). As a  result, the following list will be appreciated by most parents (except for possibly clean freaks…art  supplies can be messy).
 Art supplies: Even rough and tumble truck driving Baby Badgers love to "do art." And it's  amazing how much "art" they can do in an afternoon. Markers, construction paper, new crayons, glue. You name it Baby Badger goes through it like he eats it…on second thought,  maybe he does?
Play-doh: Play-Doh
 is an all-time favorite at our house (as evidenced by our now multi-colored  carpet), but play-doh does NOT last forever. You can go buy the real stuff, or if you're  motivated, you can make your own. Grandma found this great recipe that we think is softer and better  smelling than the real stuff.
Books: We love the library. Baby Badger loves the library. But it's nice to have some books at  home too, and well, you just can't (or wouldn't want to) get pop-up books from most libraries.  Here's links to some of our favorites (our awesome local bookstore has many of these, but I  realize some of you aren't so lucky). Warning: Pop-up books will get broken. They are not easy  to fix.
The Maisy Pop-Up Books by Lucy Cousins (note: not all Maisy books are pop-  ups…this one
 is as are many others).  These books have bright illustrations and really  complex pop-up art. They can be challenging for little hands to make them all work, but 2  ½ year old Baby Badger can now do them all and is absolutely enthralled by them.  He slept with this book under his pillow last night.
Pop-Up Peakaboo. We have Pop-Up Peekaboo: Things That Go
 – do you sense a theme here? This is another Baby Badger  favorite. The pop-up art is really well constructed and one of the few that has been  looked at hundreds of times and still not in need of repair. I just noticed that there are  many other titles in this series…Baby Badger this one's
 coming your way.
Socks and underwear: Mr. Badger tells me that kids don't like to get clothes as presents, but I'm  pretty sure that Baby Badger is going to be stoked about the car, truck, and plane big boy undies I  just found for him.
Gifts for pets (specifically dogs)
Pets are a no brainer. Virtually nothing lasts forever for a pet…at least not for  our pets. And yes, Mr. Badger may not like to admit this, but we (ok, I) buy our pets Christmas presents.  Hey, they like to open presents too; nothing makes a dog happy like a new tennis ball and it's pure  entertainment to watch them unwrap a gift (Hint: put presents in a stocking or wrap individually in  tissue paper). Here's my list of favorite special gifts for our extra furry friends (sorry cat people…Mr.  Badger isn't a fan of cats so I have limited suggestions for you):
Bully sticks/Ligament sticks: People who know more about dogs than me tell me that raw hide is  bad for canine digestive systems, but ligament sticks are fine. All I know is that our dogs love  them. They are basically freeze dried sticks of meat. They start off solid and odorless, turn into a nasty soggy mass (it's ok…you're dog will run away with it as soon as you give it to her), but provide hours or days of pure doggy delight. They are perfect to give to your dog on holidays or, for us, any day to assuage our guilt about the limited attention we've given our pup since the birth of Baby Badger. We buy ours at our local pet store, but here's a Amazon link
 so you can see what they  are.  I just noticed these are grass fed and hormone free beef = no need to freak out if Baby Badger  manages to steal one from the dog and try it out himself (just joking…please note that this is a financial website, not a child-rearing website).
Teddies: That's our name for them not Zanies'…Zanies calls them "Boy Dog Toy" which just seems creepy. These are amazing. A stuffed toy
 that big dogs don't destroy immediately, and little  dogs love too. These can be hard to find. I have yet to find them at the big box pet stores, and  our local pet store is often out of stock. But they are way better (Badger family dogs' opinions  and mine) than any other stuffed dog toy out there. They last longer, and are definitely the  preferred toy. If a teddy is in sight, our dogs won't touch another dog toy (except maybe a  tennis ball, see below). Our dogs love teddies, will maw on them for hours, and can be seen  carrying them along on walks. All the neighbors' dogs steal them. Much to Mr. Badger's chagrin,  we have about a dozen. They come in all types of form factors: bones, koala bears, elephants,  but the one shown here is by far the best – it's the most durable and most dog-preferred in our house
Tennis balls: The old standby. Buy regular tennis balls rather than pet-specific tennis balls.  Regular tennis balls are cheaper, bounce better, and last longer. They may just be dogs' best  friend, are a great buy, and fit in a stocking!
* This is the first post from Mrs. Badger and is a break from our regularly scheduled programming of financial musings.  As the holiday season approaches, many Americans will be running around trying to find gifts for friends, family, and loved ones.  The Money Badgers have a slightly different view of gifts during the holiday season.  The thoughtfulness of a gift matters far more than either the monetary value or the longevity.  If you can help to set more reasonable expectations about gifting at the holidays you'll not only be acting in the spirit of the season, you'll be helping everyone save a bit more money and reduce the number of things in their lives that don't really increase their happiness.
*Little/Baby Badger's name has been a debate in the Badger household. Mr. Badger thought "Junior Badger" was an appropriate name (blech!) because our son is technically no longer a baby. I've been advocating for Baby  Badger because: 1) It's a nice use of alliteration, and I love alliteration, 2) He'll always be my baby, and 3)  Baby Badger automatically invokes cuteness…with Junior Badger, you have to wonder whether we're  talking cute, cuddly little badger or angry, angsty, pre-teen badger. We have a tentative agreement thanks to Baby Badger himself. Mr. Badger and I were talking about his name in the car, and the little tike  pipes up with "I Little Badger." I can live with Little Badger and coming out of Baby Badger's mouth, it  sounds adorable. However, in an act of defiance, I must continue to refer to him as Baby Badger in all  my posts.
Photo by PublicDomainPictures